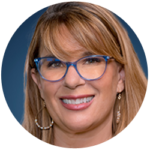 Fawn Damitio is a Content Experience leader who loves to bring her experience and enthusiasm for content to the conferences, webinars, and forums where she speaks. She's led content teams for over 25 years in some of the top Fortune 100 companies.
Currently, Fawn is the head of Juniper's Information Experience team. She also is Program Director for Rising Leaders, a Juniper program that develops Juniper Marketing's next generation of talent, Fawn is a great believer in mindfulness and loves to lead weekly mindfulness sessions at Juniper. She also, much to her team's dismay, has an affinity for making bad jokes.
Fawn lives in Santa Cruz, California, with her two children, Jazzy and Elijah, two dogs, Grover and Nelly, and two rats, Bean and Lamppost the Third of the Royal British Empire.