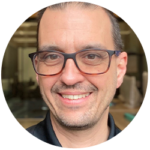 Chris Rocco is currently leading the Developer Experience for Volkswagen's next generation connected vehicle platform in the emerging Electric Vehicle industry.

My passion is leadership in human-centered digital transformation. It is not enough to just implement technology. True differentiation comes from psychological resonance with customers, and the ability to apply the art of design, the science of technology, and the alchemy of innovation. That is what I do.

I have spent the past 15+ years ideating, building, marketing, and selling, enterprise-class Platform-as-a-Service (PaaS) solutions across multiple industries within startups, medium, and large organizations.