LavaCon San Diego Menus
At LavaCon, we believe you should get more than rubber chicken and steamed broccoli for your conference dollar. We also believe you shouldn't have to sacrifice flavor if you have dietary restrictions.
If you specified a dietary restriction or preference when registering, you'll receive a menu card when you pick up your name tag at the registration desk. Please show the card to any server and they will advise which items on the buffets are appropriate for you (or they will hand you a dish prepared specially for you!).
Menu key:
GF gluten free, DF dairy free, V vegetarian (contains eggs and dairy), VG vegan, N contains nuts
Sunday Oct 15th
Breakfast Buffet


Fresh Cut Pineapple and Strawberries (VG, GF, DF)
Whole Fruit to include Bananas and Tangerines (VG, GF, DF)
Mixed Berry Parfaits with Maple Almond Granola (V, N)
Butter Croissant, Blueberry Muffin, Cherry Danish, GF Loaf (V)
Chilaquiles Verde: Crispy Tortillas, Refried Beans (V), Salsa Verde, Braised Chicken, Queso Fresco, Sour Cream and Pickled Red Onion
Note: The Chilaquiles can be made (V, DF) upon request.
Lunch Buffet
Hot off the Grill Sandwich Station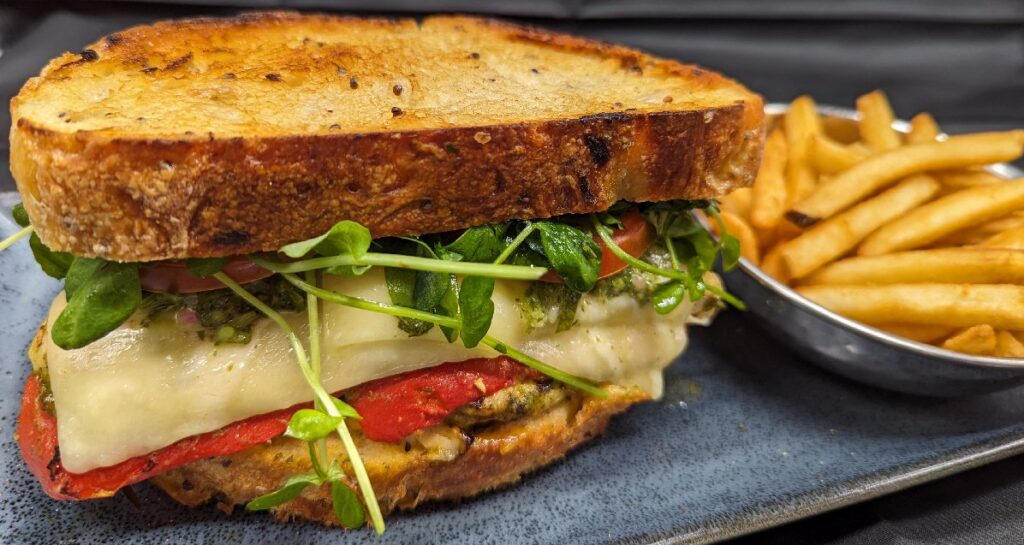 Chimichurri Chicken:  Cilantro and Pepper Marinated Chicken, Amarillo Aioli, Chimichurri Salad
Carne Asada: Flat Iron Steak, Avocado Pesto, Charred Corn Relish and Queso Blanco
Turkey Mole: Rotisserie Turkey Mole, Plantains, Oaxacan Cheese and Spicy Peanut Sauce
Notes: Carne Asada option can be made using vegan (VG) substitute.
GF, DF bread available upon request.
Dessert in the Exhibit Hall
Roasted Sweet Corn Blondies (V)
Tres Leches Flan (GF)
Vegan Chocolate Brownies (upon request)
Coffee, Tea, Water Service
Afternoon Snack in the Exhibit Hall


Gourmet Trail Mix with Nuts, Seeds and M&M's (V, N)
Fuji Apples and Clementine Oranges (VG, GF, DF)
Red Velvet Whoopie Pie with Vanilla Cream Cheese Filling (V)
White Chocolate Bark with Peanut Butter Cup Crumble (V, GF, N)
Homemade Almond, Cranberry and Oat Granola Bars (V, DF, N)
Cinnamon Apple Infused Water (VG, GF, DF)
Networking Reception
Off the Salt Rock Station: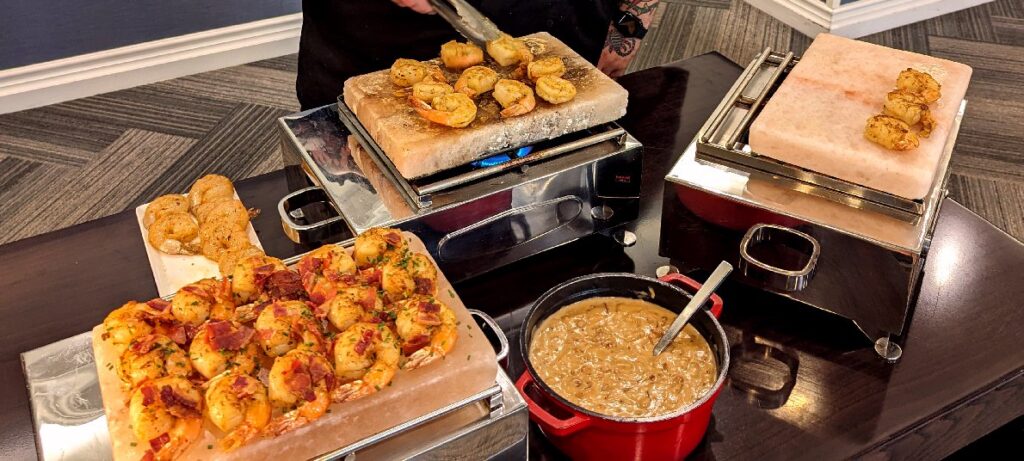 Jumbo Shrimp with Creamy Bacon Sauce
Filet of Beef with Cowboy Butter Sauce
Seared Tofu Scallop (VG)
South of the Border Taco Station:
Chicken, Beef Birria, and Oyster Mushroom Enchilada (VG)
Refried Beans (V) and Cilantro Rice (V)
Toppings: Salsa Roja, Salsa Verde, Cotija Cheese, Guacamole, Limes and Pico de Gallo
Tortillas are V.
Paella Valencia Action Station: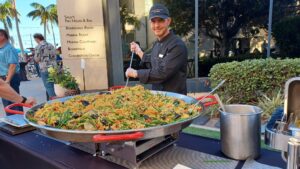 Saffron Rice, Shrimp, Mussel, Chicken Thigh, Chorizo, Onion, Bell Pepper, Peas and Haricot Vert (GF, DF)
Saffron Rice, Artichoke Heart, Garbanzo Bean, Red Onion, Bell Pepper, Peas and Haricot Vert (GF, DF, VG)
Dessert Station:
Mini Bubble Waffles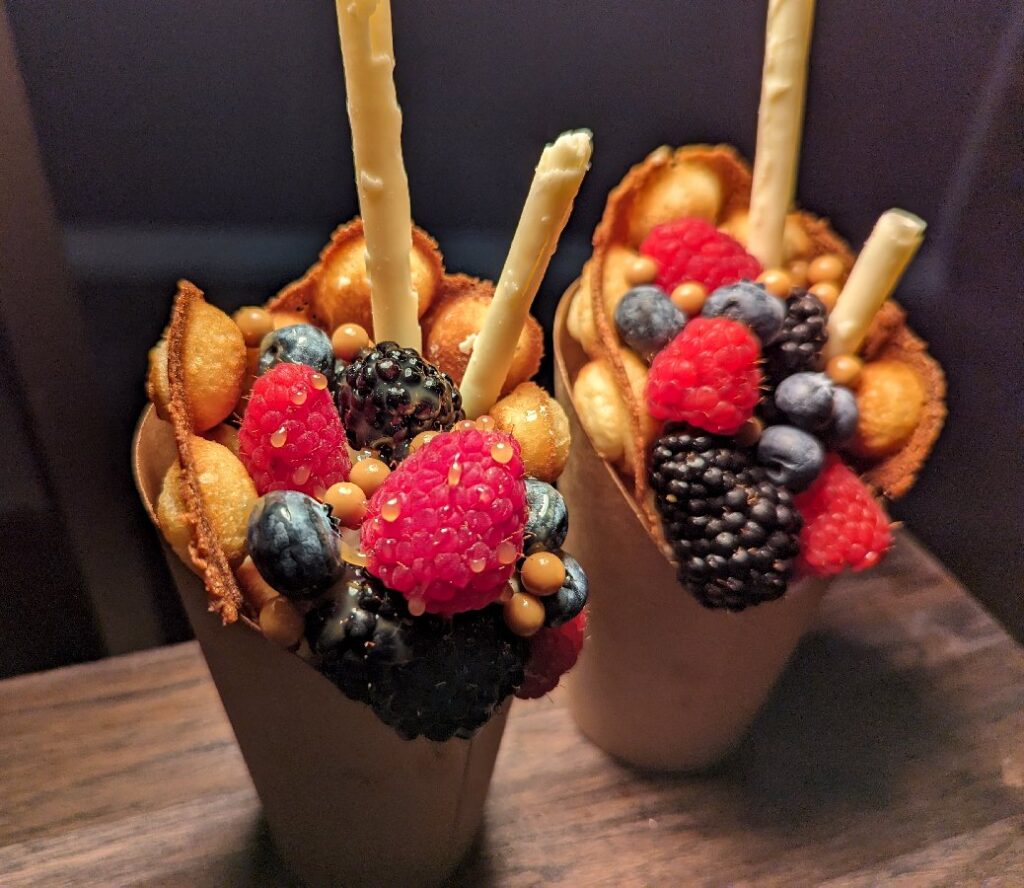 Whipped Oreo Cheesecake with Chunky Oreo Pieces
Vanilla Bavarian with Fresh Berries and Caramel
Note: All can be made (V), Bavarian (DF) upon request.
Monday Oct 16th
Breakfast Buffet

Roasted Portobello: Sous Vide Egg, Garlic Spinach, Mushroom Sauce, Soy Chorizo and Crispy Parsnips (can be served without egg for GF, DF, VG)
Fresh Cut Cantaloupe and Red Grapes
Whole Fruit to include Bananas and Granny Smith Apples
Oatmeal Bar with Brown Sugar, Toasted Pecans, Dried Cranberries and Golden Raisins
Pecan Sticky Buns (N), Lemon Poppyseed Muffin with Crystal Sugar, Cheese Danish, GF Loaf
Lunch Buffet
Pacific Rim Stir Fry
Vegetables: Bok Choy, Carrots, Shiitake Mushrooms, Broccolini, Daikon, Bean Sprouts, Scallion, Celery , Bell Peppers (DF, V, VG)
Proteins: Chicken (GF, DF), Beef (GF, DF), Shrimp (GF, DF), and Tofu (DF, V, VG)
Sauces: Hoisin, Oyster, Tamarind, Ginger Soy, Sriracha
Jasmine Rice (GF, DF), Brown Rice (GF, DF)
Pork Belly Fried Rice served in "Chinese To Go" Containers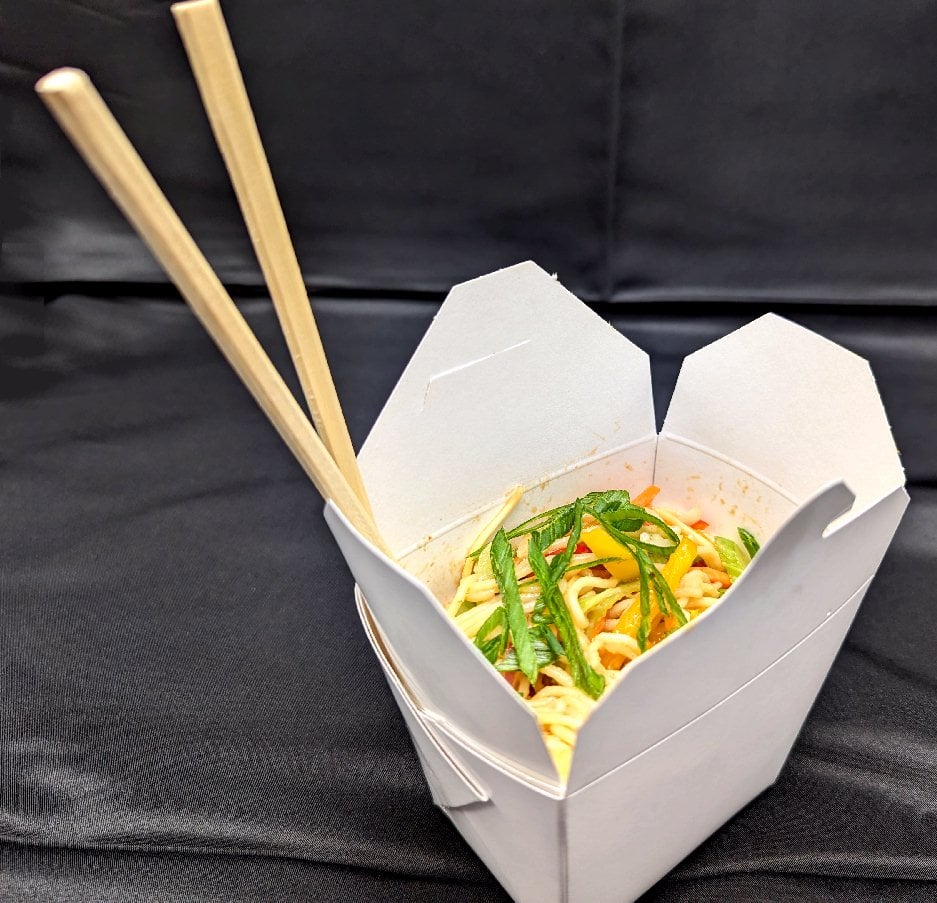 Dessert in the Exhibit Hall
Ube Whoopie Pies with Pandan Cream Cheese Filling
Lilikoi Curd Tarts
Notes: Pies and Tarts can be made GF.
GF, VG Whipped Coconut Cream with Raspberries available upon request.
Afternoon Snack in Exhibit Hall

Local Red Bartlet Pears (VG, GF, DF)
Chipotle and Rosemary Glazed Nuts (VG, GF, DF, N)
White Cheddar and Kettle Corn Popcorn Bags (V, GF)
Chocolate and Peanut Butter Mousse Parfaits (V, GF, N)
S'mores Brownie Bars (V)
Lemon and Blueberry Infused Iced Tea (VG, GF, DF)
Tuesday Oct 17th
Breakfast Buffet

Honeydew and Orange Segments with Blackberries (VG)
Whole Fruit to Include Bananas and Bartlett Pears (VG)
Muesli Rolled Oats with Blueberries and Agave Nectar
Cinnamon Raisin Roll, GF Chocolate Chocolate Chip Muffin, Apple Danish, GF Loaf
Monte Cristo:  Battered Sourdough, Honey Ham, Gruyere Cheese Topped with a Quail Egg
Have a question about the menus? Email us and we'll get back to you promptly!