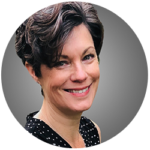 Sheila leads the Slack content design team. She's been designing products with words since before content design was a thing, and has managed content design teams of different sizes within vastly different product and design cultures.
Previously, Sheila led the Microsoft 365 Commercial Content design team, Microsoft Security content design team, and built and led a content design team focused on innovation in the consumer financial sector for Capital One. She also led a content strategy team at GoDaddy.
She cares deeply about creating safe and supportive team environments that encourage curiosity and experimentation. She volunteers with ADPList to help boost the next generation of leaders and content design practitioners.
She has a degree in English Literature from Arizona State University, which has worked out surprisingly well. She lives in the Pacific Northwest with her husband Kevin, dog Seamus, and many many trees.