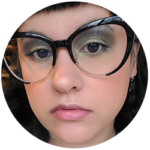 Jess Caldwell is an Information Architect with more than ten years of experience in content creation and strategy at Jack Henry. She has a Bachelor's degree in Professional and Creative Writing from Missouri State University. She has also received the BCS Foundation Certificate in User Experience.
In her current role, Jess supports a department of 40+ on all things information architecture and user experience. Jess has been involved in several migration projects and usability activities for the Enterprise Content Services department. Recently, Jess helped coordinate and lead the migration of multi-channel delivery into a dynamic delivery platform.
Outside of work, Jess spends most of her time with her husband and two grumpy old cats, Moose and Apollo. She is an avid fan of Halloween and all things spooky.
.