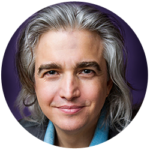 Founder and principal at [A], Cruce Saunders and the [A] team work with the largest and most complex enterprise content publishers on Earth crafting the next generation of the content supply chains and publishing architecture that powers personalized customer experiences.
He is the author of Content Engineering for a Multi-Channel World, and regularly speaks on omnichannel customer experience, content intelligence, AI, chatbots, personalization, content structural and semantic standards, and intelligence transformation.
Cruce also hosts the Towards a Smarter World podcast, where he connects with leaders impacting global intelligence.