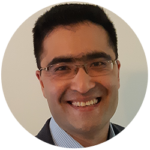 Alex Masycheff is a CEO of Intuillion Ltd. (http://intuillion.com/) that develops solutions for managing, automating, and delivering enterprise content.
Alex has been in the content industry for 25+ years. He lead implementation of XML-based solutions in many companies, including Kodak, Siemens, Netgear, and EMC.
Alex believes that a combination of structured content, AI, and natural language processing can provide users not only with precise answers on direct questions, but navigate them through the opportunities that the users don't even realize that they exist.