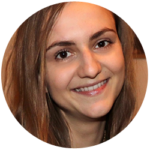 Martina Farkasova is the Customer Education Leader at Kontent.ai, where she leads her team to enable customers through forward-thinking content.
Prior to this, she studied information technology with her final thesis on Design sprint automation. Combining her passion for technology, data, education, and research is what led her to become a Content Developer and later a CustEd Leader.
When she's not working, you might find her behind the camera, at a music festival, or traveling the world.
P.S. If you challenge me to a Friends trivia, I will win.