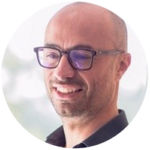 As the Co-founder and CEO, Jean-Luc leads the Componize team in the development of its business, marketing and culture.
Prior to Componize, Jean-Luc held different management and business development positions with software and IT services companies. He joined the Content Management industry in 2005, when he created the Enterprise Content Management department of a French IT services company, with Frank Shipley. 
Jean-Luc holds a Master's degree in International Business, with a specialization in Computing from the University of Aix-Marseille in the South of France. A perennial good spirit, he is also a long-distance open water swimmer and a wine enthusiast.